Aviation Photography Workshop: Beginners
06 November 2021
This full-day course is a great opportunity for photographers of every level to enhance your current set of skills. Whether you are just starting out, or you've already got some experience – this hands-on course will give you the chance to learn, plan, execute and develop as aviation photographers.
The RAF Museum has teamed up with Chappers Photography and Lee Chapman, an experienced aviation photographer and fully qualified lecturer in adult education.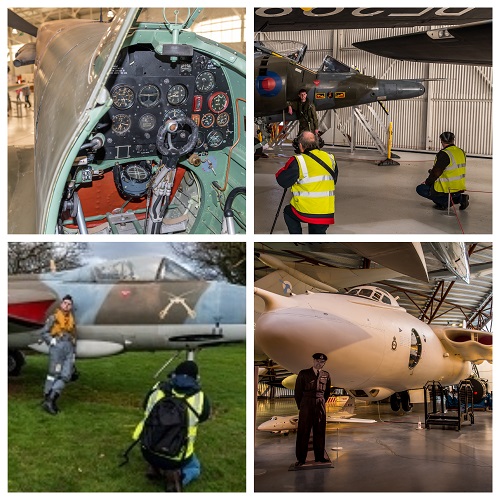 Get up close to some of our most iconic aircraft inside and outside of our hangars and capture great photos in a unique setting. We will also be joined by a period RAF re-enactor who will be at your disposal to pose next to some of the aircraft to add an in-teresting twist.
Learn more about the theory behind aviation photography and useful tips and tricks before you put your skills to the test in a range of settings, scenarios and cameos in and around the RAF Museum.
Participants will be provided exclusive access to our National Cold War Exhibition for one hour after the Museum closes to use their newly acquired photography skills to capture the unique atmosphere of the building and its aircraft – this is the only place in the World where you will be able to photograph all 3 V-bombers!
No previous photography knowledge or experience required. Did you attend the Photography Workshop in February 2020 or are you already more experienced – why not attend our Aviation Photography Workshop (Advanced) on Sunday 7 November. Find out more here.
Course content:
Attendees will learn the fundamentals of photography in a practically led course where they will explore several aspects of aviation photography including internal and external shots, cockpit photography and working with a re-enactor.
This course will cover various aspects of aviation photography including; composition, shutter speed, aperture and ISO. The aim of the day will be to give attendees the confidence to take their cameras out of automatic mode.
Tickets:
£75.00 per person (parking fee and lunch included), max. number of participants is 15.
The event is suitable for over 16 year olds.
By purchasing tickets to our event, you enable the RAF Museum, a registered Charity, to continue to tell the inspiring stories of RAF personnel.

Event Timings:
Arrival, briefing and welcome – 10.00am
Course Start – 10.30am
Lunch – 12.30pm – 1.30pm
Exclusive access to the National Cold War Exhibition – 4.00pm -5.00pm
Event closes – 5.00pm
Exclusive aircraft access (subject to change):
Cockpit photography
Supermarine Spitfire Mk 1
Kawasaki Ki100
Boulton Paul Defiant Mk 1
Internal photography:
Lockheed Hercules C130K Mk3
Vickers VC10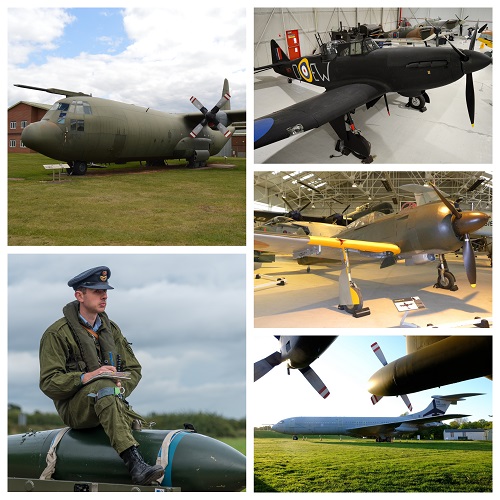 Suggested equipment:
Camera (any type and model of camera is acceptable), can be any type (compact, bridge, DSLR, etc.) or model with adjustable settings
Memory cards
Spare battery
Wide angle lens (optional)
Additional lens up to 200mm (optional)
Tripod (optional)
Flash guns (optional)
Suitable clothing, including clothing for wet weather, along with suitable protective gear for shooting in the rain
Additional information:
The aircraft will be in their usual Museum settings and you will be required to move between different settings. Please wear suitable footwear and inform us about medical conditions when booking your tickets.
The event will still go ahead in wet weather. If the weather is deemed to be unsuitable, we will communicate this decision via email and will offer an alternative date.
The event is for participants aged 16 and over only.
All ticket holders must attend the safety briefing before the event, you will not be able to participate in the shoot without attending the briefing.
Lunch is provided, please choose your meal option when buying your tickets and notify us of any dietary requirements when booking your tickets.
The National Cold War Exhibition for exclusive access from 4.00pm – 5.00pm. The Museum will be open to the public from 10.00am – 4.00pm.
Opening times for Shop and Refuel Café (in the Visitor Centre) are 10.00am – 3.30pm.
Covid-19 update:
The event will be run in line with the latest advice from the Government and Public Health Bodies. A number of precautions will be in place to ensure the safety and wellbe-ing of our visitors, volunteers and staff. These measures* include but are not limited to:
A Covid-19 cleaning programme throughout the site to control the likelihood of cross contamination.
Installation of hand sanitiser points throughout to the Museum in addition to the available hand washing facilities in toilets.
Additional members of staff, social distancing markers, queue management sys-tems and or/ barriers to control the number of individuals in any area at all times.
Closed off areas or routes which we cannot effectively control
Reducing the number of available tickets to 15 participants per workshop.
Wearing face covering is mandatory inside buildings and aircrafts for the duration of the event.
Participants will be divided into smaller groups of 5 and move around the Muse-um guided by a member of staff or volunteer throughout the day.
Please note: Depending on the latest guidance at the time of the event, internal aircraft access may not be possible.
Find more information about the event and our measures to mitigate the risks of Covid-19 in our FAQs.
* Measures may be subject to change
If you have any questions please see our FAQ or email us