SOLD OUT: Photography Night Shoot for Beginners
27 November 2021
Lights, Camera, Take-off…to the RAF Museum Night Shoot!
An event for aviation enthusiasts and photographers (amateurs and professionals) alike – with exclusive after-hours access to the Museum's grounds, perfect to photograph iconic aircraft in the changing light as the sun sets and on into the evening.
Don't miss the opportunity to capture the special atmosphere as we display aircraft out-side our hangars – lit by LED lights and with a unique backdrop.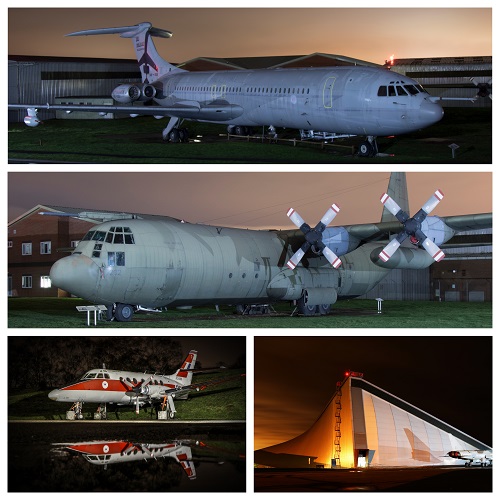 The Night Shoot for Beginners workshop is a great opportunity for individuals who are new to photography or more experienced photographers who have never attended a Night-shoot or just want to brush up their skills. Whether you are just starting out, or you have already got some experience – this hands-on course will give you the chance to learn the secrets of Night-time aviation photography.
The RAF Museum has teamed up with Chappers Photography and Lee Chapman, an ex-perienced aviation photographer and fully qualified lecturer in adult education. You will be able to learn more about the theory behind night-time aviation photography and gain some useful tips and tricks in a 1-hour seminar. Following this you will be able to put your skills to the test in a guided walk around the specially lit exhibits. Your instructor will be on hand throughout the evening to ensure that you refine your photography skills and leave with a set of images you can be proud of.
The Refuel Café in the Visitor Centre will be open until 9.00pm serving hot and cold drinks and light refreshments. They will also be serving Fish and Chips and Cheese and Onion Pie for take away. Pre-order your dinner when you buy your tickets and you will receive a complimentary hot drink.
Aircraft available (list is subject to change):
• BAe EAP *
• Saunders-Roe SR53*
• Hawker Siddeley Dominie T.Mk.1
• Lockheed Hercules C130K Mk3
• SEPECAT Jaguar ACT Demonstrator*
• Vickers VC10
SR53 and SEPECAT Jaguar ACT Demonstrator will be displayed between Test Flight Hangar and the National Cold War Exhibition.
Please note, the Fairey FD2 advertised for the event in November 2020 will not be available.
Instead the SR53 will be on display.
* Outside display weather dependant
Timings:
• Arrival – 2.30pm
• Course starts – 3.00pm
• Guided walk – 4.00pm
• Safety briefing – 5.20pm
• Night Shoot starts – 5.30pm
• Event closes – 9.00pm
Tickets:
THE EVENT HAS NOW SOLD OUT
£65.00 per person (parking fee included). The ticket price includes your ticket for the Night Shoot. The event is suitable for over 16s.
By purchasing tickets to our event, you enable the RAF Museum, a registered Charity, to continue to tell the inspiring stories of RAF personnel.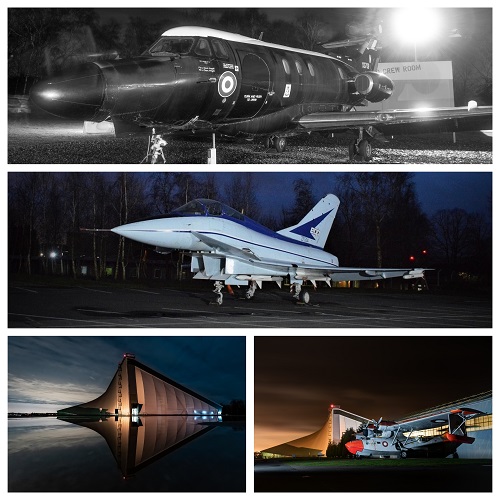 Additional information:
We suggest you bring the following equipment:
Camera
Lenses up to 200mm
Tripod
Remote shutter release
Memory cards
Spare battery
Do not bring any flashguns – these are not required
Please also bring:
A hi-vis vest or jacket – you will not be able to participate in the shoot without wearing a hi-

vis

Suitable clothing and footwear, including clothing for wet weather, along with suitable protective gear for shooting in the rain
The event will still go ahead in wet weather. If the weather is deemed to be un-suitable, we will communicate this decision via email and will offer an alternative date.
The Visitor Centre will remain open throughout the event for access to the toilets, however the shop will be closed.
Hot food service for take away in the Refuel Café from 6.00pm – 8.00pm. £10.00 per meal complimentary hot drink if pre-booked.
The aircraft (excluding the BAe EAP, SEPECAT Jaguar ACT Demonstrator and SR53) will be in their usual Museum setting.
Only ticket holders will be able to gain access to the event and site during the event
The event is for 16 and overs only
All ticket holders must attend the safety briefing before the Night Shoot, you will not be able to participate in the shoot without attending the briefing
The Museum will be open to the public from 10.00am – 5.00pm, you cannot access any of our Hangars after 5.00pm
Opening times for the Shop in the Cold War Hangar: 10.00am – 5.15pm
Opening times for the Refuel Café (in the Visitor Centre) are 10.00am – 9.00pm
Covid-19 update:
The event will be run in line with the latest advice from the Government and Public Health Bodies. A number of precautions will be in place to ensure the safety and wellbeing of our visitors, volunteers and staff. These measures* include but are not limited to:
Controlled the capacity for each event to limit the number of participants so that physical distancing can be observed
A Covid-19 cleaning programme throughout the site to control the likelihood of cross contamination.
Installation of hand sanitiser points throughout to the Museum in addition to the available hand washing facilities in toilets.
Additional members of staff, social distancing markers, queue management sys-tems and or/ barriers to control the number of individuals in any area at all times.
Closed off areas or routes which we cannot effectively control
The event will take place outdoors with controlled access to indoor areas for toi-let facilities  gift shop and café.
Limiting the number of participants in any one area at all times.
Working with Threshold Aero who are a Covid Secure supplier, more details can be found on their website: www.threshold.aero
Please note: Depending on the latest guidance at the time of the event internal aircraft      access may not be possible.
* Measures may be subject to change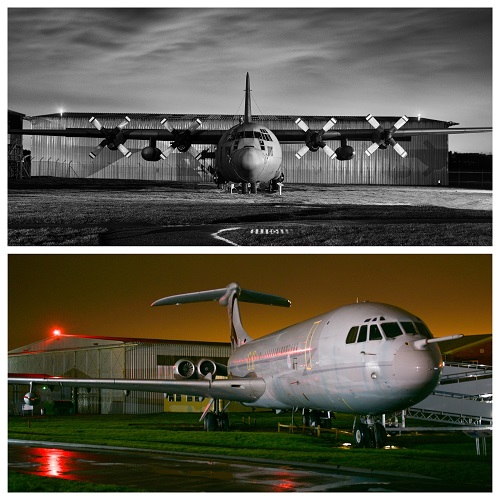 Find more information about the event and our measures to mitigate the risks of Covid-19 in our FAQs.