Art Gallery
Our Art Gallery holds our latest art exhibition 'In Air and Fire : War Artists, The Battle of Britain and the Blitz'. Entry to this exhibition is free of charge.
A collection of work exploring artists' responses to the Battle of Britain and the Blitz (July 1940 – May 1941) as they represented evolving machinery, communications, and urban landscapes, shaped by what was an unprecedented 'war in the air'.
Visitors can view over sixty works of art, several of which will be on display for the first time as part of this exhibition. Entry is free.
Exhibition now extended by popular demand. Now closing 27 February 2022.
Admission to our London site and the exhibition is free of charge. However, you need to book a free timed ticket to gain access to our London site, after which you are free to view the exhibition at a time of your choice.

As sky battles unfolded across the South and East of England in the summer of 1940, followed by cities' bombardment in proceeding months, artists produced a pictorial record of the war, many of their works commissioned and purchased by Sir Kenneth Clark's War Artists' Advisory Committee (WAAC). 
The exhibition features works by Official War Artists, including Paul Nash, Graham Sutherland, Carel Weight, Anthony Gross, Richard Eurich and Eric Kennington. Yet it extends beyond the prominent male members of the British School, championed by Clark, to reflect the full range of war artists' contributions. It seeks to bring together the stories and perspectives of artists from diverse backgrounds, highlighting the best of collection works from the period.
Comprising around half of the curated selection, the exhibition celebrates the works of women war artists, most of whom were overlooked for commissions, whose pictures were typically purchased by the patriarchal WAAC or produced for independent projects. They include Laura Knight, Doris Zinkeisen, Eve Kirk, Olga Lehmann, Rachel Reckitt, Mary Viola Paterson, Enid Abrahams, Elva Blacker, Elsie Gledstanes and Lilian Buchanan. Unofficial war artists, many involved with the relief effort of the Blitz, also contributed significant works on themes of civil defence and devastation.Modernist artists drew inspiration from the formidable forms of fighter and bomber aircraft, representing them in themes of manufacture, repair, camouflage, and aerial operations. As the 'personalities' of modern warfare, planes became new portrait subjects. If ever more powerful aircraft inspired artists to evoke an 'automative' war, so too were they excited by the expressive possibilities of other new apparatus. The barrage balloon was an alluring subject for figurative artists, an ungainly behemoth, incongruous to the landscapes of everyday life, seemingly mightier than its human operatives.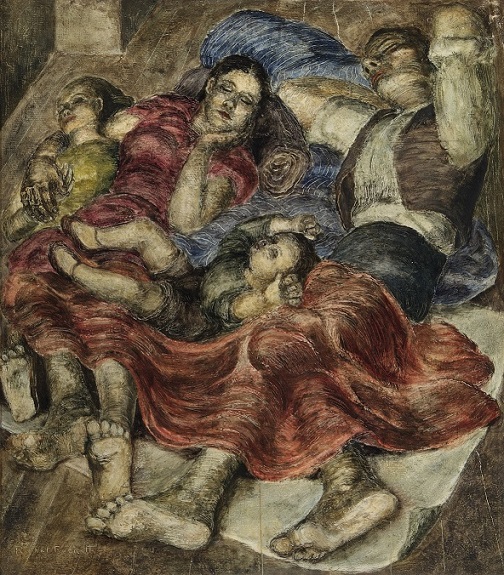 But the human presence in this war was far from overlooked. Beyond the carapaces of their machines, pilots and crew of Fighter and Bomber Commands were famed in portraits promoting the achievements of the RAF. Furthermore, artist members of the Women's Auxiliary Air Force naturally documented the familiar people and spaces of the RAF stations they served. And with the onslaught of the Blitz, artists addressed domestic themes such as the Air Raid Precaution and fire services, ambulance and rescue work, and communal sheltering. 
Alongside shelter, the blighted landscape became a major propagandist subject, to be reproduced across the world to proclaim Britain's plight and fortitude. In updating the ruin scene, suggestive of a Romantic past, artists enshrined the memory and persistence of British culture. German exile Walter Nessler's Premonition (1937) foretold a London Blitz, presenting an uncanny, dystopian vision of St Paul's Cathedral rising from an inferno of twisted girders, shattered buildings and scattered buses.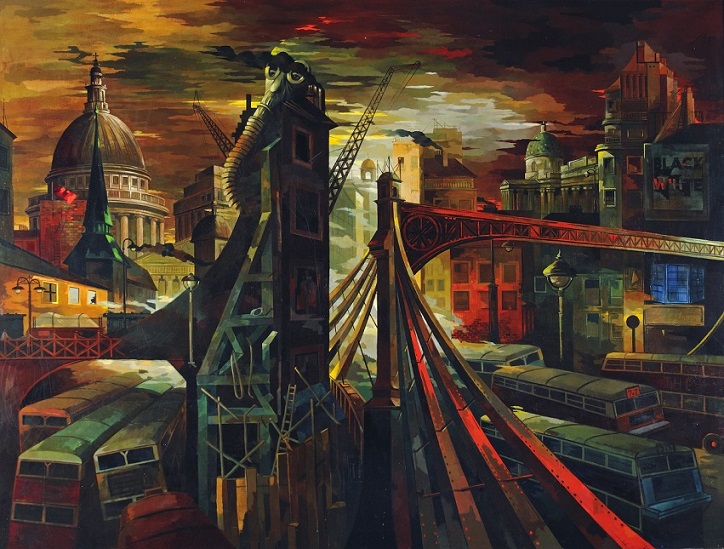 RAF Museum Curator of Fine Art, Julia Beaumont-Jones said: 
"As the exhibition will reveal, artists' interests to interpret this war of 'air and fire' were diverse – influenced by the exigencies of employment; excited by new subjects to represent; and driven by a will to express experiences both shared and personal. Seeing these works together offers a rare insight into the diverse backgrounds and perspectives of war artists – from the prominent members of the British School who were officially commissioned, and the formerly overlooked contributions of women artists, to the work of the 'civil defence artist', the exiled artist, and the amateur 'outsider artist'."
Complementing the exhibition is a Mezzanine Gallery display of related work by Fine Art and Printmaking students from Middlesex University. 
Wearing of Facemasks
In accordance with current government regulations you must now wear a face covering in our galleries, restaurant* and shop, unless exempt from doing so.
You do not need to wear one when outside in our green spaces, unless it makes you more comfortable to do so. We would also ask that when in our buildings that our visitors be aware of others around them and where possible maintain a social distance of 1 metre.
*Except when seated.