100s of Venues to Say Thank You to National Lottery Players
Published on: 26 November 2018
Hundreds of National Lottery-funded venues across the UK, including more than 100 National Trust places, are throwing open their doors for free or giving out free offers at the beginning of December.
The offer, #ThanksToYou, will run from Monday 3 December to Sunday 9 December and will involve venues, which have received National Lottery funding, offering a variety of free offers and/or free entry to members of the public.
Some of the UK's best-loved sites and attractions will be taking part, including the Natural History Museum, Science Museum, Kew Gardens, the Eden Project, RSPB sites, Jodrell Bank, the National Railway Museum at York, V&A Dundee, National Museum Wales, and a number of venues across Belfast's Titanic Quarter.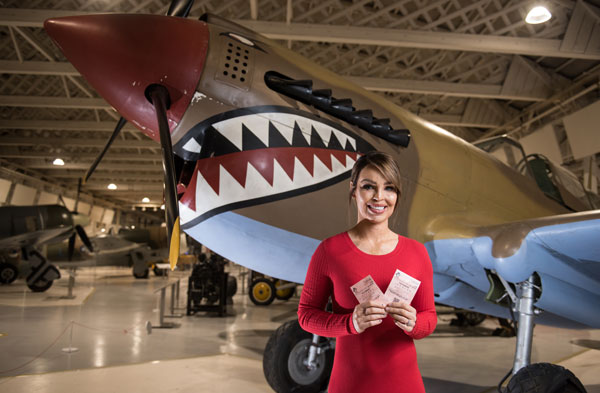 To receive free entry or the free offers, people simply need to show their National Lottery ticket during the week commencing 3 December at participating venues.
Launching the project at the RAF Museum in London, was TV Presenter and Strictly Come Dancing star, Katie Piper.
Katie, who frequently visits the RAF Museum with her family, said: "I think people forget that when they're buying a National Lottery ticket, they're helping to support great causes all over the UK, and hundreds of these are right on their doorstep.
"The Thanks To You campaign is a brilliant opportunity for people to explore their local National Lottery-funded venues and have a wonderful day out, just as we always do at the RAF Museum."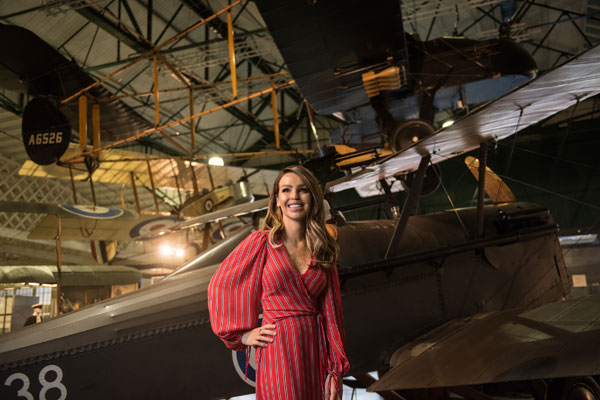 Maggie Appleton, Chief Executive of the RAF Museum, which has received more than £7M in National Lottery funding for new developments at both its London and Midlands sites, added: "Many people do not realise the huge number of projects that are literally on their doorsteps and which would not be here today if it wasn't for funding from The National Lottery.
"We are delighted to be able to thank players for helping make the RAF Museum what it is today and will be offering free Spitfire simulator experiences all week."
Hundreds of venues across the UK will be open throughout week commencing 3 December, all with a special offer for people who show up with a National Lottery ticket or scratchcard.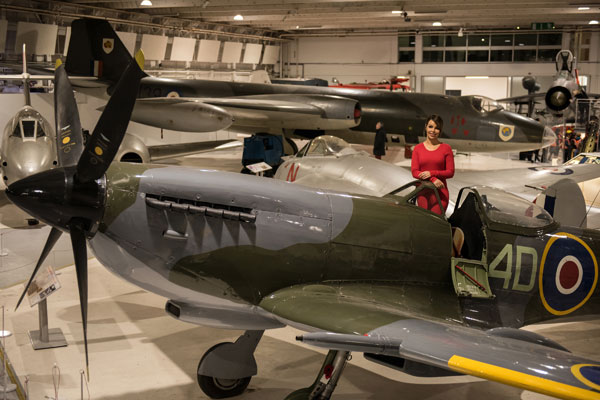 Easy-to-use venue map
You can see all the venues taking part in the National Lottery #ThanksToYou free offer via The National Lottery's website: www.national-lottery.co.uk/life-changing/project-thankstoyou. As offers vary please check the website for any changes and the most up-to-date information.
Offers include:
National Trust properties: Free entry at more than 100 participating National Trust places from 5 December until 7 December. For a full list of participating venues, visit: www.nationaltrust.org.uk
Jodrell Bank Discovery Centre: Jodrell Bank is offering free entry to anyone bearing a National Lottery ticket or scratchcard between 3 December and 9 December.
Once there, why not join one of the daily walking tours around the base of the world-famous Lovell Telescope? Alternatively, make a date for a free, fun and family-friendly Live Science Show on Saturday 8 December or Sunday 9 December.
Full details on www.jodrellbank.net/thankyouweek/
Yorkshire Sculpture Park: Between 3-9 December, produce a National Lottery ticket or scratchcard and enjoy free parking at the popular open-air attraction near Wakefield, saving £11 per visit. Entry to the park is already free.
Full details on https://ysp.org.uk/visit/national-lottery-thanks-to-you
Eden Project: Free entry for up to two adults and two children between 3 December and 7 December upon production of a valid National Lottery ticket (for games taking place between 3 December and 7 December 2018) at the Visitor Centre on arrival.
Full details on: https://www.edenproject.com/
RAF Museum, London: Show your National Lottery ticket or scratchcard to the Spitfire 360° Flight operative and receive a free flight. The offer is valid from 3-9 December and is subject to availability and on a first-come, first-served basis. The flight experience is suitable for visitors aged 13 and over.
Full details on: https://www.rafmuseum.org.uk/london/whats-going-on/events/thanks-to-you-week/
National Railway Museum, York: Join a series of curator-led behind-the-scenes tours of the museum, with up to 20 people on each tour. Three tours will take place during the week, on Monday 3, Wednesday 5 and Friday 7 December.
Full details on: https://blog.railwaymuseum.org.uk/
HMS Caroline, Belfast: Free entry any time between 10am and 5pm (note that last admission is 4pm) from Monday 3 December to Sunday 9 December. Visitors will receive a free audio guide as they are shown around the museum.
Full details on: https://www.nmrn.org.uk/exhibitions-projects/hms-caroline