Celebrating the 20th Anniversary of Trans Inclusion in the UK Armed Forces
Published on: 1 May 2019
The RAF Museum London recently added an event marker to their RAF History Timeline to recognise the pioneering service of the first Officer in the British Military to transition gender whilst serving. Flight Lieutenant (Ret'd) Caroline Paige was accepted as her authentic self in service in February 1999 heralding the dawn of a new era for the military in embracing diversity and inclusion. Caroline initially served as a navigator on F4 Phantom fighter aircraft during the Cold War, before transferring to battlefield helicopters flying Wessex HC2 and Merlin HC Mk3/3a in operational roles. Following transition she served a further sixteen years and earned several awards for exceptional service whilst on operations in Iraq and Afghanistan. Caroline retired from the RAF in Nov 2014.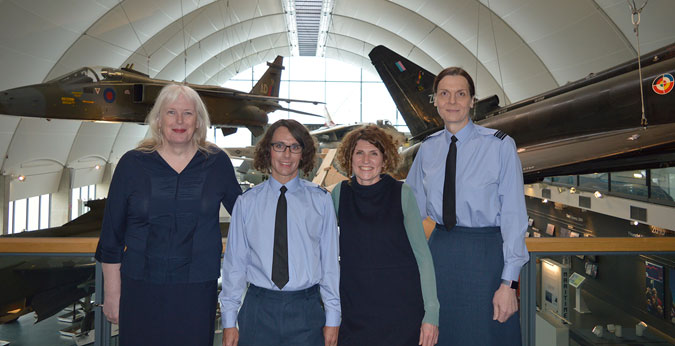 Yesterday Caroline was hosted by the CEO of the Museum, Mrs Margaret Appleton, and her team, and was joined by current serving transgender personnel. The event was a collaboration between the RAF and the Museum to recognise the significance of the changes in diversity and inclusion policy that have occurred since Caroline transitioned, and to celebrate 20 years of continuous open service in the RAF by transgender personnel. Squadron Leader Catherine Lawson, who is the Co-Chair of the RAF LGBT+ Freedom Network, is an Aerosystems Engineer who currently specialises in integrating the latest generation of advanced weapon systems on to combat aircraft; and Sergeant Danny Holt is a senior avionics technician who currently specialises in software development for the E3D Sentry early warning aircraft. The pair met with Caroline to commemorate this important milestone in the history of the RAF and to exchange stories of their personal experiences of serving.
Squadron Leader Lawson said, 'it is vitally important that we remember and celebrate key milestones such as this in recognition of the forward thinking culture that embodies the RAF – I am able to serve openly today as a transgender woman because the RAF recognise the skills and the strength that comes from embracing diversity'.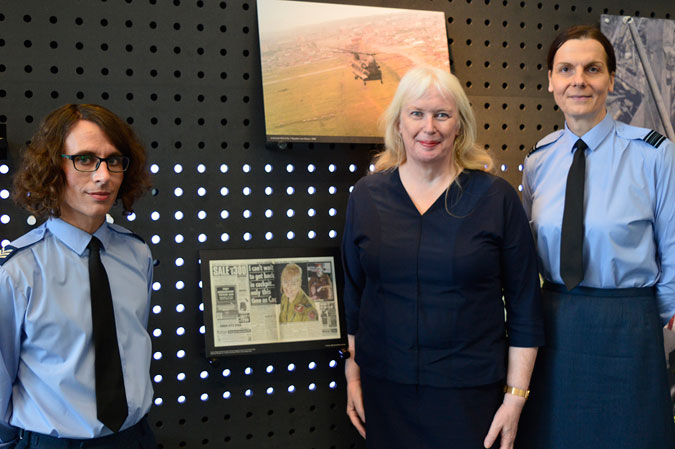 Caroline Paige added 'It's wonderful to see the RAF Museum include this event marker within their history timeline as it is important that military history reflects the diversity of the personnel who served. The RAF Museum is keen to show the human story behind that history and today they have included arguably one of the most remarkable changes in diversity and inclusion policy to take place within the RAF.
The RAF History timeline exhibit can be viewed in Hangar 6 of the RAF Museum in Hendon, as part of 'The Age of Uncertainty: 1980 to Today' collection. The display captures the essence of the personal stories of serving personnel in order to humanise the experience of RAF service and, when viewed alongside the myriad of static aircraft and interactive displays, allows visitors to gain an important insight into life within the world's first modern air force.