Stop and Laugh: Be the Best You Can Be at the RAF Museum
Published on: 26 January 2018
We are proud to host motivational courses for younger members of the local community, held in collaboration with Head Held High and Rainbow Head.
Date: 12 to 16 February
Time: 12 to 15th Feb: 11am to 4pm
16th Feb: 2pm – 7 pm (with live performance)
Ages: 13 to 16 year olds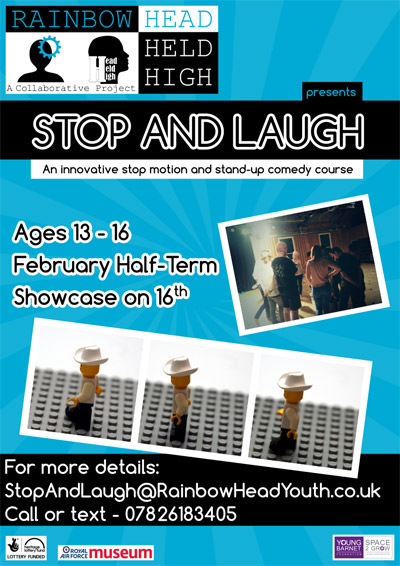 Head Held High run hard hitting and motivational, interactive workshops and one to one support for anyone who may need a bit of extra help in life. Their message is to encourage each individual to become a product of his or her true self and not be dominated by their past or their environment.
Rainbow Head is an all inclusive group for young people supporting each other's mental well-being and having fun. They provide a safe space for people of all gender identities, sexualities and mental health difficulties.
The 5 day creative and motivational workshops at the RAF Museum are geared towards personal and professional development and will take the form of a Stop Motion Animation course and a Stand Up Comedy workshop.
Stop..
The Stop Motion Course uses computer workstations to develop skills in stop motion animation which will enable users to build their own content for film, TV, or their own YouTube channel. The presentation at the end of the course will give the opportunity for all to see the final product!
.. and Laugh..
The Stand-Up comedy course is a motivational course finishing with a live 5 minute stand-up comedy routine. This course will build confidence, courage and help find the humour in life. We study different types of comedy, work on self-expression, presentation skills and selling oneself with confidence. It takes courage to attempt to make an audience laugh. Once people can do this, they can achieve anything. Interviews for jobs, universities or anything that demands a bit of bottle will be a doddle after this.
Places are limited to 10 in each course so register now.
Contact: Tash on 07826 183 405 or email StopAndLaugh@RainbowHeadYouth.co.uk
Supporters
The Stop and Laugh course has been generously supported by the Heritage Lottery Fund, John Lyon's Charity and the Young Barnet Foundation 'Space 2 Grow' Children and Young People's Fund.