Unique 'Name your Plane' installation to come to the RAF Museum London
Published on: 10 October 2018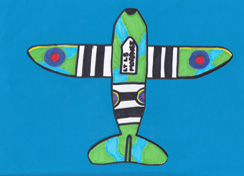 For one month only, we will be hosting a display of thousands of paper planes in our First World War in the Air Gallery, Hangar 2.
Across its wings, each plane carries the name someone who died while serving in the Flying Services during the First World War, who is buried or commemorated in the British Isles.
Thousands of children and young people 'named' and decorated the planes, as a personal and creative act of remembrance honouring those who died and raising awareness of their graves across the country.
Come and see this unique commemoration at our London site from 20 October – 19 November.
To find out more about how you can be involved, to request a database of Flying Service war graves in the UK, or to receive a schools pack and other resources, please email RAF100@big-ideas.org.
Remember RAF100 marks the centenaries of the First World War and of the formation of the RAF. The project is led by Big Ideas and funded by the Ministry of Housing Communities and Local Government (MHCLG) and RAF100, through the Chancellor using LIBOR funds.