Chocks away for the Spitfire 10K Virtual Race!
Published on: 2 September 2019
Date: Entries open until 27 September 2019
Cost: UK – £15.00 + £1.90 booking fee
Europe – £17.50 + £1.90 booking fee
Rest of the world – £19.50 + £1.90 booking fee
The popular Spitfire 10K held annually at both the RAF Museum's Cosford and London sites is going virtual! The sell-out race at both Museum's saw more runners than ever before racing across the airfield at Cosford and through the streets of north London and following its success last weekend, the Museum is launching the Spitfire 10K Virtual Race for those who missed out.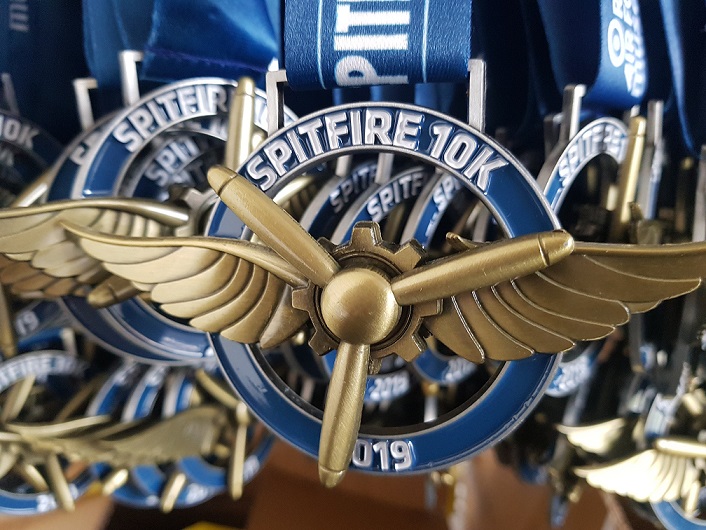 Taking part in the Virtual Race allows participants to complete the distance in their own time, wherever and however they want – on the road, in the pool, at the gym, or even walking the dog! Online applications are now open and those who wish to partake have until Friday 27 September to sign up.
Once the Spitfire 10K Virtual Race is complete, participants should forward their route, whether that be a Strava file, Garmin screenshot or screenshot of their watch, to show they have achieved the distance by Sunday 29 September. Runners will then be rewarded with one of the highly sought after 2019 Spitfire 10K spinning propeller medals, an absolute must for any runner's medal collection!
RAF Museum Public Events Manager, Abi Betteridge said:
"The demand for the Spitfire 10K at both Cosford and London is huge. We increased our capacity this year and had 2,300 runners participating across the two Museums, with over 150 people on the waiting list. We're making the race virtual so those who missed out on race day can still be part of this unique event. The great thing about the virtual race is that it can be completed in a location of their choice, but they will still receive one of our spectacular medals. Last year we had just under 400 runners from across the UK and even abroad with participants from as far as Australia, New Zealand and America. We hope this year it will be just as popular."

All those who enter the virtual race will get a head start for the 2020 Spitfire 10K by receiving advanced notice of the race entry details at both museums. Entry costs £15.00 per person in the UK and all proceeds from the Spitfire 10K will go towards the RAF Museum, registered charity number 244708.
Anyone interested in the Spitfire 10K Virtual Race can register online. Entry costs £15.00 per person (UK), £17.50 (Europe) and £19.50 (Rest of the World), plus booking fee.