March Competition Winners Announced
Published on: 5 April 2018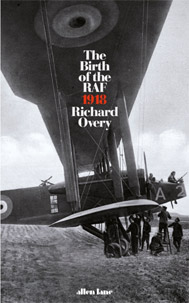 In March we teamed up with publishers Allen Lane to give away 5 copies of Richard Overy's latest publication : The Birth of the RAF, 1918. This ran throughout the month until 31.
The dizzying pace of technological change in the early 20th century meant that only ten years divided the Wright Brothers' first flight and the clash of fighter planes in the Great War. A period of terrible, rapid experiment at huge human cost followed to gain a brief advantage. Each squadron was maintained by a team which included carpenters, blacksmiths and sailmakers, and servicemen's diaries talk repeatedly of the debilitating cold of the open cockpit.
Aircraft vulnerable to the slightest weather changes were loaded with explosives, and primitive navigational tools sent aviators off over the water never to be seen again. By the end of the First World War, Britain had lost an extraordinary 36,000 aircraft and 16,600 airmen.
The RAF was a revolutionary response to this new form of warfare and its creation was resisted fiercely by both the army and navy. Without a number of powerful figures in Whitehall, including Churchill, it could easily not have happened. Yet it lit the flame for all the independent air forces that followed, and had the most profound impact on the future of global warfare.
All that entrants had to do was to answer a simple question to go into our free prize draw to win 1 of 5 copies each.
The question that we asked was: The RAF was founded on 1 April 1918. On what date in 1918 did the Women's RAF come into being?
The answer was of course 1 April 1918.
Our 5 lucky winners who answered correctly and whose names were drawn from a hat are as follows:
– Iona Corns from Rushden
– Simon Fox from Worksop
– Nyree Roxburgh from Elgin
– Brenda Taylor from Fleet
– Gordon Lucy from Belfast
Copies of Richard Overy's exciting and informative work are now wending its way to them.
If you entered the competition and was unsuccessful but would still like to own your own copy of 'The Birth of the RAF, 1918' it may be purchased from our online shop.