Sign up to the UK Primary Schools Glider Challenge
Published on: 25 September 2018

Closing date for entries: Friday 19 October 2018
The Glider Challenge offers primary schools a unique opportunity to begin to engage students in years 4, 5 and 6 (Scotland P5, P6 & P7) with STEM subjects.
The competition is sponsored by the RAF Museum Midlands & The Learning Partnership to engage as many young people as possible with an authentic Science and Engineering challenge. The competition and supporting curriculum resources are designed to help equip students with the skills, knowledge and experience that they will need to embrace and tackle the global opportunities and challenges of tomorrow.
The project is fully resourced with lesson plans, printables and activity guides made available online on the Dendrite STEM Education Community.
• Registration costs £45.00 + VAT per school and includes everything you need for 1 class (10 teams) and can be purchased here.
• Extra resources in packs of 10 can be purchased also by clicking here.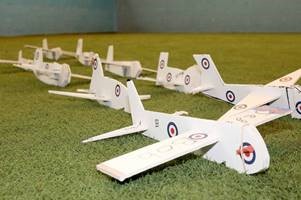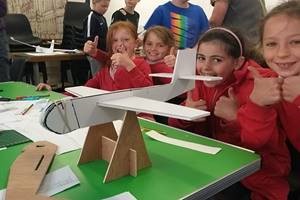 How the competition works:
Use the guidance and ideas in the content areas below to design, build and test gliders through the Autumn and Early Spring terms. There is a variety of additional lesson content you can use from now to explore key principles.
Hold an in-school glider flying competition, providing opportunities for students to refine their designs and launching skills. Notes and a video presentation for this are in the content areas below.
The team/s (one team of up to 4 from each registered class at the school) with the best distance flying glider is invited to represent their school at the regional finals to be held at the regional Hub in February or March. At the regional and national finals, students will get the opportunity to learn more about flight and will design and compete with new glider designs they make there (all tools and resources provided).
Winners of each regional finals will be invited to a National Level Final at the beginning of April 2019.

Teachers Guide:
Further details are in the teacher guide which you can view and download.
How do I sign up my class or school to Fly to the Line Season 2?
1. You need to be an administrator of a school in Dendrite to register for a competition.
2. If you do not have an administrator role or a Dendrite account, create an account using the options at the top and link yourself to your school in the choices given. If you are the first teacher to sign up for your school you will automatically be made an administrator. You will also be able to see if any other teachers are already assigned to your school.
3. Once logged into Dendrite as a teacher at your school, return to this page www.flytotheline.com
4. Click the Send Registration Request icon next to your school's name. That will link it to the competition and finals venues listings and leader boards.
5. Complete the payment using the online store to purchase a team entry and to receive the class pack of resources.
6. Closing date for entries is Friday 19 October 2018.
Where can I get advice on running the at school qualifying stage?
You can review the videos and presentation below which include new resources on running you're in school qualifying stage and preparing for the regional final.
How do I find my regional final date and hub location?
Regional hubs are located at specialist aviation museums and forces aviation bases around the UK to provide an exciting and informative venue for the qualifying teams to design and fly gliders.
Regional Final Hub Locations & Dates:
These will be published in the Autumn Term of 2018 after school registration is complete and be timetabled for the start of the spring term 2019.
Timetable for a Regional Final day:
School should aim to get to the regional competition for registration by 9:30AM. The event will end at 2:30PM
National Final Locations & Dates:
The national finals will be held at the beginning of April to avoid any clash with SATS. The exact date will be published in Autumn Term 2018.
Where can I get more help or information?
The resources in the sections below contain lots of information to help you manage taking part in the competition. There is a map of all the schools taking part if schools want to coordinate on travel, etc.
HAPPY FLYING!