Identifying Historic Aircraft Joysticks
The RAF Museum Research Department is regularly contacted by members of the public wishing to know more about historic aircraft components found in attics, recovered from aircraft wreck sites or bought at car boot sales. Where the Museum has similar objects in its own three-dimensional collections it is usually quite easy for us to help.
However, in some cases we have to rely on the information contained in reference books held by our Library to find out what these items are and which aircraft they were fitted to.
For example, over the last few months I have been involved in identifying a number of unusual aircraft control column grips – better known as joysticks – and I am going to review here some of the published sources at our disposal.
We have a large collection of technical publications dating from the First World War to the present day, which include illustrations such as this one showing the control handle of a British fighter from 1918.

This type of joystick was fitted to several types of RAF fighters in service from the end of the First World War and into the 1920s.  One of these aircraft was the Sopwith Snipe as can be seen from the illustrated in parts list for the Snipe, as seen below.
Typically, enquirers send us a photograph of an aircraft component together with details of any letters and numbers stamped onto it.  If we are given a maker's part number for an RAF joystick we can sometimes identify it from a copy of the appropriate RAF stores vocabulary list.   Our Library is lucky enough to have  a few copies of these vocabulary lists for section 27J "Aircraft Gun Firing Buttons and Ring Control Handles".  The sample page seen below shows both the RAF stores numbers and maker's part numbers for several RAF joysticks from the late 1940s.
However, if we are unable to trace the control column through a part number, we can turn to a very useful series of manuals for individual RAF aircraft types known as Pilot's Notes.  They were published from the early part of WW2 until the 1960s and usually contain very clear black-and-white photographs of the aircraft's cockpit.  A typical example of a Second World War Plot's Notes photograph showing the cockpit of a Saro Lerwick flying boat with the control column clearly visible can be seen below.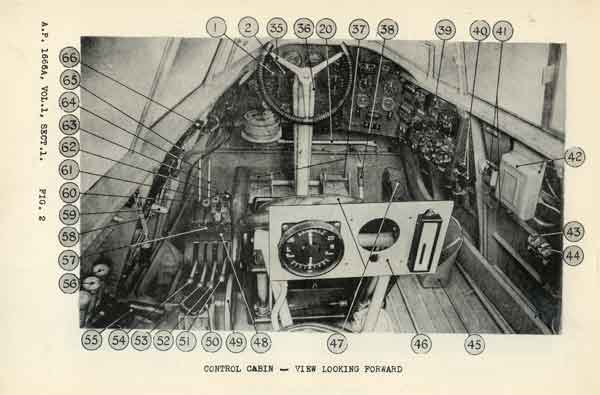 As well as the Pilot's Notes, the parts lists for aircraft can also be useful.  These identify parts of an individual aircraft type by number and in some cases they also  include illustrations.  This is a good example of an illustration from the Schedule of Spare Parts for the Hawker Typhoon.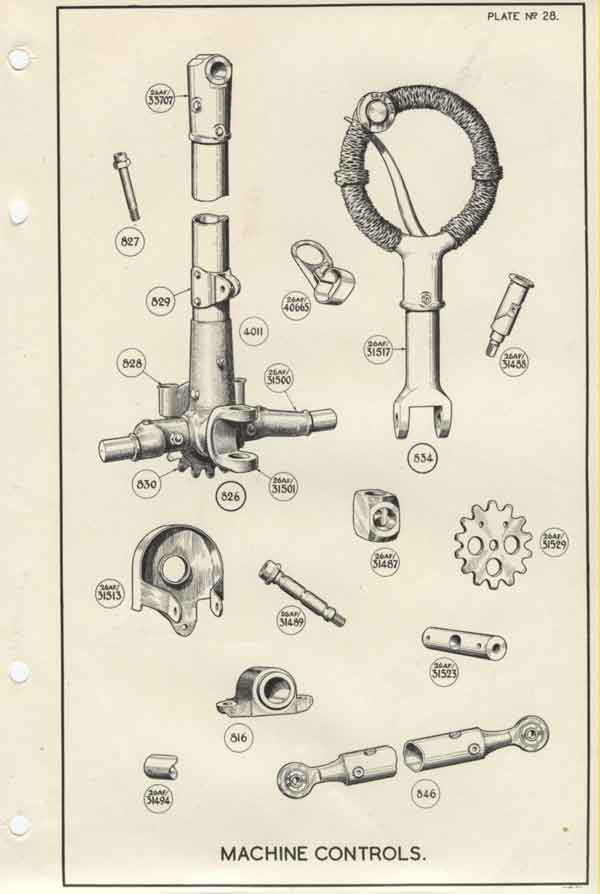 In our collection of manufacturers' publications we hold two very nice examples of catalogues published in the 1950s by the Aviation Division of the Dunlop Rubber Company Limited showing the wide range of their products, which included firing control handles fitted to control columns.  The detailed photographs in these catalogues are much clearer than those in the Pilot's Notes and used in conjunction with other sources they can be of great help.
The number of well-illustrated commercially published books on aircraft cockpits has increased noticeably in recent years and some of the titles held by the Museum's Library are shown here. They include "Fighting cockpits 1914-2000: Design and development of military aircraft cockpits" and "The Aircraft Cockpit" by L.F.E. Coombs, "Famous Aircraft Cockpits" and "Famous Aircraft Cockpits 2" by Hiroshi Seo,"German Aircraft Interiors 1935-1945" by Kenneth Merrick, "German Aircraft Cockpits 1911-1970" by Peter Cohausz , "Cockpits of the Cold War Cockpits" by Donald Nijboer and Daniel Patterson  and "At the controls: The Smithsonian National Air and Space Museum book of cockpits" by Tom Alison and Dana Bell.
As I hope I have been able to demonstrate, the Museum's Library holds quite a lot of information on joysticks as it does about many other types of RAF aircraft components and equipment and by using the various sources at our disposal we are often able to identify an item and link it to the type of aircraft it is associated with.