October's Competition Winners announced
Published on: 12 November 2018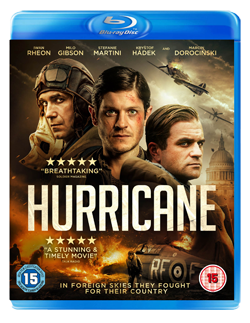 To celebrate the release of Rakuten Cinema's blockbuster movie Hurricane on both DVD and Blu-Ray disc on 22 October we ran a competition throughout October for people to win one of five copies of the movie on Blu-Ray disc.
All that people had to do was to answer a simple question to be entered into a free prize draw which took place on 12 November.
The question that we asked people was:
In November 1948 a memorial was unveiled in Great Britain to the 2,408 Polish airmen killed during the Second World War. Where is it still located?
The answer is RAF Northolt
The five lucky winners who now have a copy of the Blu-Ray disc winging its way to them are:
• Mr Christopher Billinge of Great Sankey, Warrington
• Mrs Sarah Davies of Lanesfield, Wolverhampton
• Mr David Harrison of Watchfield
• Miss Amy Dixon of Far Headingley
• Mr Rupert Ladds of Upper Minety, Malmesbury
Hurricane tells the heroic story of 303 Squadron through the eyes and experience of Jan Zumbach, one of the aces of the Battle of Britain. The character is played by Iwan Rheon, the star of Game of Thrones (Ramsay Bolton), Misfits (Simon Bellamy), and Inhumans (Maximus).
Other notable actors playing in this epic film are – Milo Gibson as Canadian fighter ace John A. Kent 'Kentowski,' and Marcin Dorocinski as Squadron Leader Witold Urbanowicz.
If you entered our competition and did not win a copy of Hurricane, it is now available from all good stockists and online – making it an ideal gift for Christmas.