Summer Time Advanced Aerospace Residency
The winning schools for STAAR 2021 have now been selected. Congratulations to our winners and thankyou to all participating schools. 
To keep up to date with the STAAR programme and other educational events, why not sign up to our Cosford learning newsletter?
For 2021, STAAR will be in a new format to allow for current restrictions around COVID-19 and to allow more schools to access this one of a kind programme.
The STAAR (Summer Time Advanced Aerospace Residency) Programme is brought to you by Northrop Grumman, with the support of the Northrop Grumman Foundation, and in partnership with the RAF Museum.  It is being delivered by the Museum, Royal Air Force Cosford, Tablet Academy and RAF Youth and STEM Engagement Team
STAAR is designed for Year 9 (Scottish S3) students who demonstrate an interest or aptitude for one or more STEM subjects. Interested schools can enter the STAAR competition, opening 19 April 2021, with winning schools given the chance to attend a residential at RAF Cosford. The competition has a mixture of tasks across the STEM spectrum, and schools are asked to submit 20 students from across Year 9, with an equal gender split (same sex schools may apply 20 students). We recommend that the group of 20 is then split in to four groups of five. Please note: we cannot accept more than 20 students for the residential application. More than 20 students may take part in the competition, but only 20 can be put forward for residential if your school is selected.
Tasks will be delivered to you on a weekly basis via OneDrive. The first task will be released on the 10 May. There are six tasks in total.
Students will have until the 28 June to hand in all completed work via the OneDrive link.
After the final submission date, all work is reviewed by external judges.
Four winning schools will be chosen and invited to attend a mini residential in October.
Residential Element
This is a two/three day immersive, hands-on residential camp, like no other. Successful students stay with chaperones on base at RAF Cosford, and each day of the course is delivered at the RAF Museum or on base at RAF Cosford by RAF Museum STEM Ambassadors, industry experts from Northrop Grumman, Tablet Academy professionals and RAF STEM personnel.
The programme is funded by the Northrop Grumman Foundation and all places on the STAAR programme are provided free to the selected students.
Monday 18 October to Wednesday 20 October 2021
Wednesday 20 October to Friday 22 October 2021
Monday 25 October to Wednesday 27 October 2021
Wednesday 27 October to Friday 29 October 2021
Please be aware that the residential element is dependant on government guidance. For more information, please see our FAQ's page.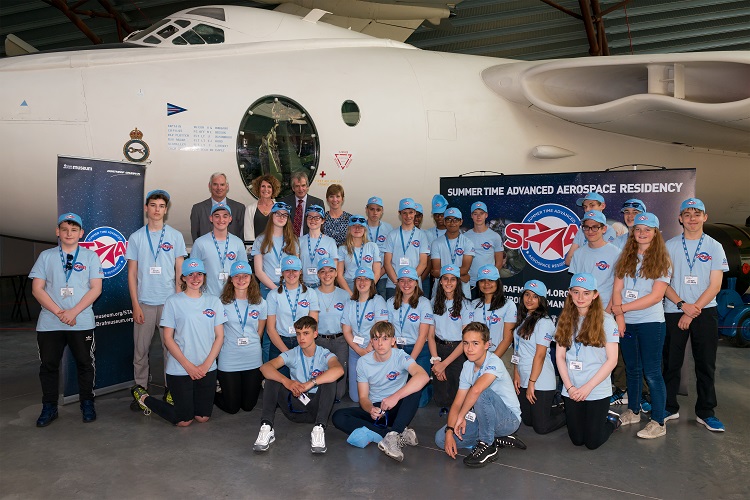 The STAAR class of 2019.
Get in touch by emailing us at STAAR@rafmuseum.org.