Virtual Reality Zone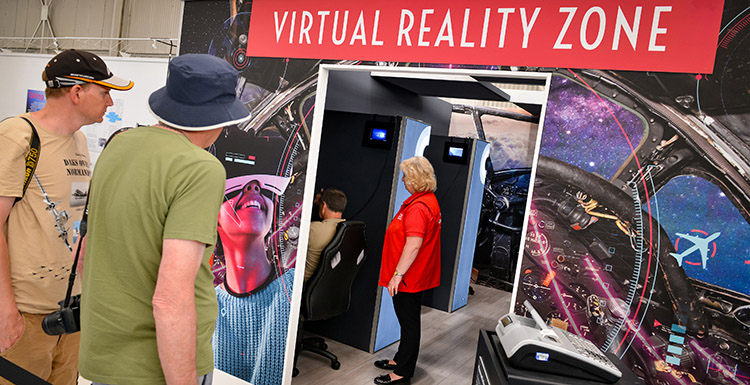 Spitfire 360° Virtual Experience
Our Spitfire 360° virtual reality experience puts the visitor 10,000 feet in the air in one of the most iconic cockpits in history.
Once visitors put on the VR goggles they are in the cockpit and have a fully interactive 360° panoramic view around them. The 6-minute flight includes engine start, taxi, take off and a circuit of the airfield with low passes, swoops, banks and a loop-de-loop. The experience ends with a landing and taxi into the hangar.
The footage for the Spitfire 360° was created especially for the RAF Museum and enables the visitor to have a feel of what it is like flying a Spitfire. Its all-around view provides an insight in how the pilot handles the controls during taking off or while throwing the Spitfire from a loop to a tight turn.
Ticket Prices
£5.00 per person per "flight"
Tickets to the Museum's Virtual Reality Zone may be purchased from the Virtual Reality Zone which is located in Flight Zone.
Terms and Conditions
Children under 16 must obtain permission from their parents/adult before using this experience. Please download the terms and conditions here.
Wearing of Facemasks
Please note:
We strongly advise that you wear a face covering in our Virtual Reality Zone, unless exempt from doing so. You do not need to wear one when outside of our Virtual Reality Zone, unless it makes you more comfortable to do so.