Lights, Camera, Take-off…to the RAF Museum photography events!
Published on: 29 September 2020
This November, the Royal Air Force Museum Midlands will be hosting two exclusive photography events, where the iconic aircraft will be the inspiration for the photos. Whether you're an amateur with the camera, or already have some experience, the aviation photography workshops, and after-hours night shoots are suitable for anyone looking to advance their skills, with the added bonus of exclusive access to the Museum's aircraft.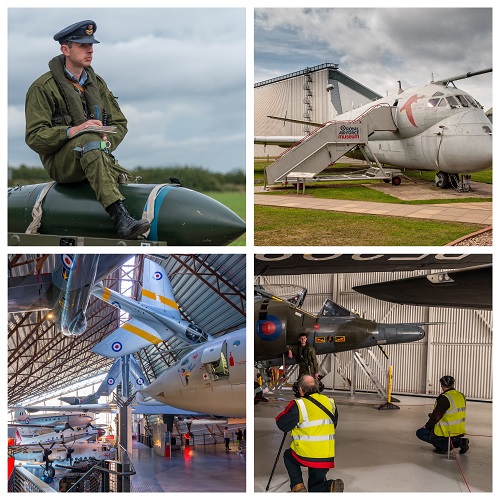 Aviation Photography Workshop
Date: 21 November (beginners) / 22 November (advanced)
Time: 10.00am to 5.00pm
Cost: £75 per person (over 16s only)
PURCHASE TICKETS:
Saturday 21 November
Sunday 22 November
The Aviation Photography Workshop is a full-day, hands-on course offering attendees the chance to learn, plan, execute and develop as aviation photographers. Learn about composition, shutter speed, aperture and ISO, in a practically led course, utilising the Museum's historic aircraft to capture internal and external shots, cockpit photos and even working with a re-enactor to bring the images to life. Photographers will then put their newly acquired skills to the test and enjoy exclusive access to one of the Museum's hangars for one hour after the Museum closes.
Choose the workshop that best suits your needs. If your aim is to have the confidence to take your camera out of automatic mode, join the beginner's workshop on Saturday 21 November. If you are looking to develop your skills further, the advanced workshop on Sunday 22 November will help you achieve this goal. Workshops run from 10.00am until 5.00pm and costs £75 per person, this includes lunch and is limited to 15 people per workshop (over 16s only). Both courses are delivered by Lee Chapman of Chappers Photography, an experienced aviation photographer and lecturer.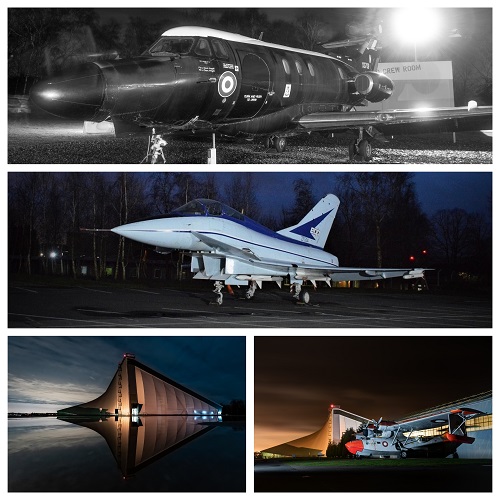 Photography Night Shoot
Date: 27-28 November
Time: 5.00pm to 9.00pm
Cost: £40 per person (over 16s only)
PURCHASE TICKETS:
Friday 27 November
Saturday 28 November
The Photography Night Shoot event is not to be missed if taking stand-alone photos of the aircraft, outside of the hangars is something you would like to see. The Museum is delighted to host the popular evening event once again, perfect for capturing aircraft in the changing light conditions, as the sun sets and on into the evening.
Six historic aircraft from the Museum's collection will be illuminated for the evening with LED lighting, and are guaranteed to provide a spectacular photo opportunity. Exclusively for the night shoot, aircraft from the Test Flight hangar, including the British Aerospace Experimental Aircraft Programme EAP, Fairey FD2 and the SEPECAT Jaguar ACT Demonstrator, will be displayed outside, giving photographers the rare opportunity to capture unobstructed images. Other highlights will include the Vickers VC10 C1K, Hawker Siddeley Dominie T.Mk.1 and the Lockheed Hercules C130K Mk3, displayed within the Museum grounds.
Taking place on Friday 27 and Saturday 28 November, the night shoot will commence at 5.00pm, with up to 150 photographers each evening enjoying after-hours access to the Museum's grounds and the opportunity to photograph the aircraft like never before. The event will close at 9.00pm and tickets cost £40 per person (over 16s only). For beginners, there is the option to participate in a two-hour workshop in addition to the Saturday night shoot, for £65 per person. The Refuel Café in the Visitor Centre will open until 9.00pm serving hot and cold drinks and light refreshments. Pre-order your dinner when purchasing tickets, and receive a complimentary hot drink, options include Fish and Chips and Cheese and Onion Pie. The Museum has teamed up with Threshold Aero, specialists in aviation night shoot photography, to deliver this event.
RAF Museum Midlands Public Events Manager, Ulrike Stuebner said:
"You don't need to be a professional photographer to enjoy these events, they are suitable for all abilities, however there will be experts on hand to offer advice if needed. We're really looking forward to seeing the incredible images people capture, and we're excited to showcase the aircraft in a completely different light, especially those usually displayed indoors.
To ensure everyone has a safe and enjoyable experience, we are putting in place a number of precautions for the safety and wellbeing of our visitors, volunteers and staff. This has included reducing the number of tickets available, social distancing markers, queue management systems and barriers to control the number of individuals in each area. We are working closely with the Public Protection Officer at Shropshire Council to ensure the event meets the requirements of the health and safety legislation and guidance released by public health bodies and the government."
Tickets to the RAF Museum's photography events are now available to purchase via the Museum website. Ticket holders must be aged 16 years and over.
Find more information about the event and our measures to mitigate the risks of Covid-19 in our FAQs.