Odchod do zahranicí – pres Polsko
Polsko bylo prvním cílem budoucích ceskoslovenských príslušníku RAF. A to i pres to, že jeho vojska od ríjna 1938 okupovala Tešínsko, nekdejší cást Ceskoslovenska. Nejen naši letci kvuli dosavadním krokum a výrokum Adolfa Hitlera vedeli, že práve Polsko bude dalším jeho cílem, a že tam bude možné bojovat nejen za nej, ale i za Ceskoslovensko. Odcházeli tam i proto, že se proslýchalo, že se v Polsku buduje exilová ceskoslovenská armáda.
Budoucí letci RAF prekracovali hranice v nákladních vagonech, pešky, ale i pres doly, jejichž šachty ústily v Polskem zabraném území. Dne 7. cervna 1939 navíc ze Slovenského štátu preletelo do Polska osm slovenských letcu. Nutno ríci, že do zahranicí neodcházeli jen vojáci, ale lidé všech profesí.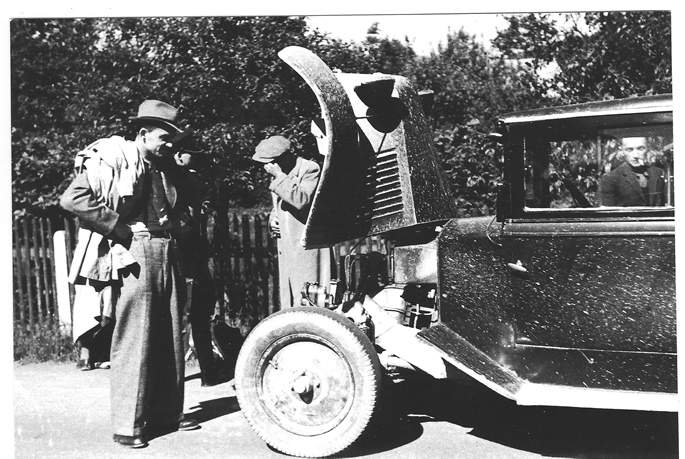 29. kvetna 1939. Z prechodu hranice. Zleva: Karel Mrázek (Pozdejší velitel ceskoslovenského wingu.), Stanislav Zimprich (V RAF byl pilotem 310. cs. stíhací perute, KIA, 12. dubna 1942.), Egon Nezbeda (Budoucí pilot 310. cs. stíhací perute.). Fotografoval Felix Zboril (Pozdejší pilot 313. cs. stíhací perute.). Porizovat fotografie z prechodu za hranice opravdu nebylo zvykem. Tato fotografie je soucástí unikátní série obrázku. Archiv Martina Vrány.
Po prekrocení polských hranic smerovali Cechoslováci do Krakova, kde existovala ceskoslovenská vojenská skupina. Ta vznikla práve z uprchlíku z Ceskoslovenska. Jejím velitelem byl nadporucík Jirí Král. (KIA 8. cervna 1940, Monneville, Francie.)
Vzhledem k tomu, že francouzská vláda nemohla (stejne jako polská) v dobe míru prijmout cizí státní príslušníky do své pravidelné armády, museli ceskoslovenští letci dobrovolne podepsat závazek vstupu do Francouzské cizinecké legie s príslibem, že po vypuknutí války budou uvolneni a budou moci bojovat ve své armáde. Tento závazek, (podepsaný pozdejším pilotem 68. nocní stíhací perute, Karlem Richterem, KIA 5. zárí 1942) respektive jeho znení, vyvolával pozdeji ve Velké Británii zlou krev. Archiv Martina Vrány.
Poláci stále nemeli o ceskoslovenské letce zájem, a tak byl dohodnut jejich odsun do Francie.
V cervenci 1939 ale Poláci svuj názor na prijímání Cechoslováku k polskému letectvu zmenili. Nejprve prijali osm Slováku, kterí v cervnu uleteli ze Slovenska. Poláci posléze nabídli možnost vstoupit do polského letectva ceskoslovenským letcum, kterí již byli pripraveni k transportu do Francie. Prihlásilo se trináct mužu. Pak plnili prevážne zpravodajské a pruzkumné lety na neozbrojených letounech. A pokud útocili na nemecké pozice, tak vetšinou improvizovane, za použití rucních granátu.
Když se blížil pád Polska, ceskoslovenští letci, rozmísteni v nekolika jednotkách, ustupovali ruznými cestami do SSSR a Rumunska. Ti, kterí byli zadrženi Rudou armádou na jí okupovaném polském území, byli radu mesícu vezneni v internacních táborech.
Ceskoslovenští letci v Polsku vykonali od 4. do 22. zárí 1939 celkem 400 operacních letu v trvání 1 500 hodin. Padli ctyri z nich: nadporucík Štepán Kurka, porucíci Zdenek Rous a Ondrej Šándor a cetar Václav Pešicka.
Je nutné zduraznit, že ceskoslovenští letci jak na úteku, tak posléze na bojištích, byli neustále v ohrožení, a to nejen bojovými operacemi. Na ceste za hranice jim hrozila smrt pri jejich prekracování – mohli být zastreleni nemeckými vojáky, poprípade, zejména pri úteku tzv. jižní cestou (pres Slovensko, Madarsko), jim po zatcení hrozilo, že budou vráceni do Protektorátu a predáni gestapu.
Dalším rizikem, které trvalo po celou dobu války, byl fakt, že nacistické Nemecko ceskoslovenské vojáky zahranicního odboje nevnímalo jako neprítele, ale jako zrádce. Jako takovým jim hrozila smrt.
| | |
| --- | --- |
| | |
| "Polský ctyrlístek" – ceskoslovenští letci v polských perutích. První rada zleva: Vilém Košar (KIA, 8. listopadu 1940), Matej Pavlovic (KIA, 20. dubna 1941), druhá rada zleva: Josef Balejka, Josef František (KIA, 8. ríjna 1940). Archiv Martina Vrány. | V podobných místnostech byli vezneni príbuzní zahranicních odbojáru, držení v internacním tábore Svatoborice u Kyjova. Kulturní dum Svatoborice – Mistrín. |
V nebezpecí byli i rodinní príslušníci ceskoslovenských zahranicních vojáku. Pro ty zrídily nemecké úrady po odstranení zastupujícího ríšského protektora Reinharda Heydricha internacní tábor ve Svatoboricích u Kyjova (Jihomoravský kraj). Byla to odveta za odboj jejich blízkých i prevence – aby nemohli pomáhat výsadkum. Po dobu existence tábora jím prošlo asi 3 000 veznu, vcetne príbuzných více jak 200 príslušníku RAF. Podmínky v tábore sice nebyly tak hruzné jako v koncentracních táborech, ale i tak byly hygienické i stravovací podmínky velmi složité, nemluve o psychickém a fyzickém útlaku. Naštestí mnozí obyvatelé Svatoboric se za nasazení vlastní bezpecnosti rozhodli internovaným pomáhat.
Curated by Filip Procházka living history group 276th Sqdn. (reenacted) RAF